Now, Exchange connectivity issue has been resolved.
"Final Status: The investigation is complete and engineers have determined the service is healthy. A service incident did not actually occur. Apr 20, 2015 2:59 PM"
A few of the customers were getting error messages while logging into Outlook and Outlook Web access. Microsoft did officially notify the customers on services being degraded for a while.
The issues was first reported on Apr 20, 2015 4:17 AM and here's the official note at Apr 20, 2015 10:31 AM
Current Status: Network engineers have updated a network configuration. Engineers are restarting services on mailbox systems that are exhibiting residual impact following the update. Additionally, engineers are monitoring the affected environment to confirm resolution.
User Experience: Affected users are intermittently unable to connect to the Exchange Online service when using multiple protocols including Outlook, Outlook Web App (OWA), Exchange ActiveSync (EAS), and Exchange Web Services (EWS).
Customer Impact: A few customers are reporting that they are experiencing this issue.
Incident Start Time: Sunday, April 19, 2015, at 10:15 PM UTC
Preliminary Root Cause: High network resource utilization is causing Exchange Online mailbox systems to intermittently lose connectivity. The underlying root cause is being investigated.
Next Update by: Monday, April 20, 2015, at 6:30 AM UTC
With this, we must also understand that a service failure or degrade doesn't always imply that all the services will be down or every customer will face the issue. To add to it, Microsoft very transparently publishes the service status on their portal.
It is worthwhile to explore what could have gone wrong and how we can avoid it in future.
As an example, Microsoft services for the tenant of Foetron are working just fine. Are we the lucky one's on Cloud 😉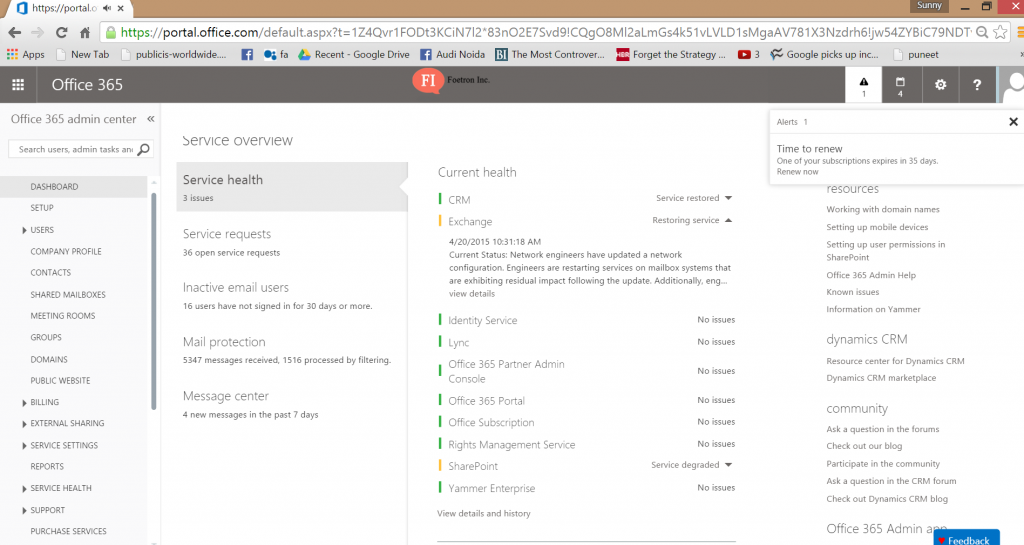 Foetron Cloud Services