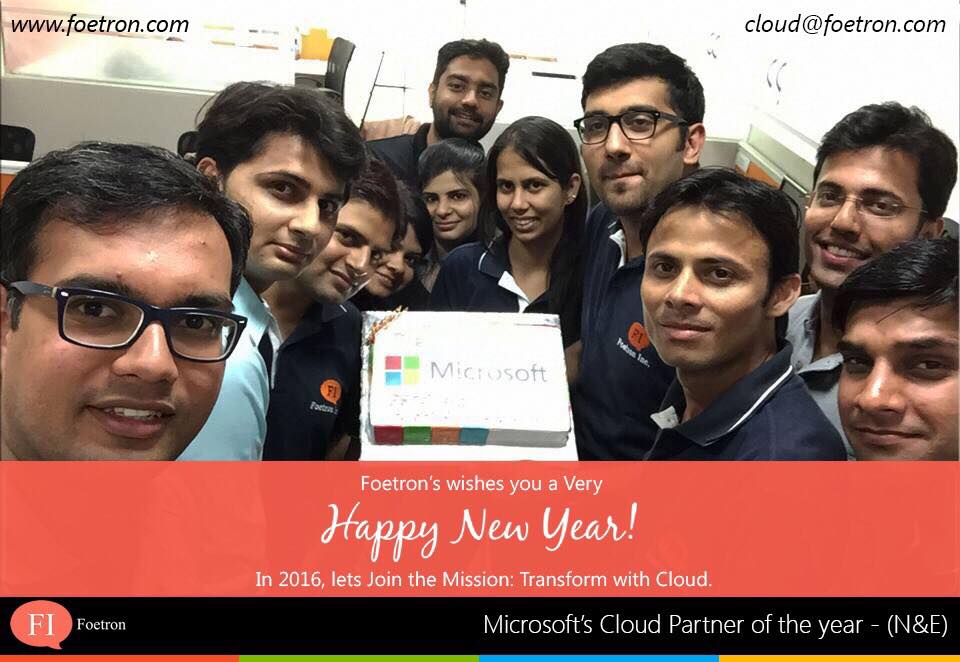 Email to the team at Foetron
"Hello!
Do you have a feeling that it's the first working day of the year? New year resolutions? Things to achieve in 2016? Professional and Personal goals?
1st Jan was no different from any other day for Foetron. Some of us were present at Customer locations as well. In 2015, Foetron completed its 4th year.
It is really difficult to summarise the journey so far in few words. In fact, it will be a challenge to try to summarize even last year itself. It is difficult because somewhere by summarizing we will be doing an injustice to all the remarkable yet intangible things that we have done or been part of.
I take pride in what we have achieved this time and what we have set out to work on. The feeling of setting up the foundation of a company where work speaks is not only humbling but truly inspiring. I take pride in our company culture where each team member is valued for their work and dedication rather than their college, background, domain, industry experience or the connections. I take pride that we all get the wonderful opportunity to learn from all kind of different people on daily basis in the form of discussions, consulting, healthy debates irrespective of their experience or age. Don't you think that it is a remarkable feeling to know that you are growing everyday of your life?
We are living in an age where businesses are easily able to find funds, get scaled up and get closed down anytime. Such businesses have their own charm and present us an opportunity to pitch Cloud. Additionally, it highlights that we have probably figured out the formula to sustainably grow. Just like the Kung Fu Panda, the secret ingredient here is nothing but, us. In simpler words, it means that it is only dependent on how we perform as an individual and how we enable our teams to grow faster. The platform is set for you to be remarkable and do something that only a handful of people have ever done despite of dreaming about. Isn't it a remarkable opportunity in itself that if taken up could change your life? Imagine that everybody dreams of changing their life and here we are to be actually at the juncture where we can do it. We are at a place which could help you to be always among the very few for your entire lifetime. Think about it!
Moreover, have you ever wondered that how many people in their twenties get the chance to create their own processes, develop their own solutions to problems that they actually face? The answer to that is not many. You guys can imagine yourself to be in a stadium where rather than being the part of the crowd you are game-changing players who are right in the middle of the ground playing a game. Take a moment and reflect upon this.
As we are together building Foetron block by block, we should contemplate and discuss on what would make us succeed. I believe some of the basic fundamentals (LIGHTED) for this are as follows:
Learn from Everything: We have amazing products and all of us have access to all the features with E3 plan. Master the product, learn a new feature each day and strive to become the experts on it.
Ideas: Every single day.. each one of you must come up with an 'idea' to improve what Foetron is doing, how can we be better at work, add new customers. If you are finding it difficult then you must realise that you are not being 100% and that would injustice to being young. Learn to give in your 100% and you will experience something very remarkable in your own personal life and an idea day can be testimony to that evolution of being 100% every single day.
Growth Mindset: We might argue, take things casually and, at times, show some lackluster attitude like 'Koi nahi Kya Jaldi hai'. However, I believe it is one of our biggest roadblocks. Thereby, it should be corrected. Further, we should start looking at simple measures to become more productive like if a particular activity is not helping us to retain or acquire a customer, then we should avoid it.
Hear & Convey Right: We have to remove all the ambiguities in conversations with outside world including Microsoft and customers. Get email approvals, say the right things and in case you do not have the answer then do not make answers at that very moment. Take help.
Team: It is common old age wisdom that if you want to go fastest then go solo but, if you want to go farthest then go with the team. Therefore, it is time to embrace this wise quote and accept that by working as individuals we would not be able to go far. One person could be the leader of a particular task but still have to work together with everyone. Any decision which is just accepted by the team but not embraced is bound to fail. Always remember that by being the leader of a task is to give in to your team and nothing else.
Excellence: The way you do everything is the way you will do anything. So, it is very important to strive for excellence even if someone is not monitoring or demanding it. It must become our nature and not an option.
Dream: Dream for everything you want. Be it money or wishes you want to fulfill. Furthermore, dream daily and work towards that dream with whatever you have in you. Though, you should remember that you will have to work hard to become the most deserving candidate to live that dream in reality. Hence, work hard to live your dream!
We have run, walked as well as crawled at times but good part is that we have kept moving towards our goals on every single day. We also saw several new members joining us and a few leaving to take new life path. We wish them good luck with the hope to see them grow with utmost sincerity and belief for a meaningful life.
In 2016, we will be taking a few initiatives (COT) and each one of you have a role to play. 35% of our revenue growth will come from existing customers and 65% from new businesses. Our focus will be on:
Customers: We have retain, give value and up sell to our existing customers. This will contribute up to 35% to our revenue growth. A new team will be formed to lead this transformation with the help of desk tool.
Outreach: From 350+ customers using our services, we have to take that count to 1000+ by 2017. How to videos, Email campaigns, reaching out to newer geographies have to be our focus.
Team Building: Each one of you will be presented with an opportunity to lead and you must create a work space for a member you can lead. For that to happen you have to think about growing the work you are doing. Figure your own formula out and do it. Also, we will be creating a team to take, manage, and execute strategic and day to day operations/decisions. From policies to retention to growth decisions.
2016 should be a year where all our energies be focused on acquiring customers. We have to increase our speed, support our team members, and actually Rise and Shine in 2016.
Are you all set for this ride which will take a lot of hard work and possibilities of everlasting returns in years to come?"
Sunny Sharma
Cloud Evangelist