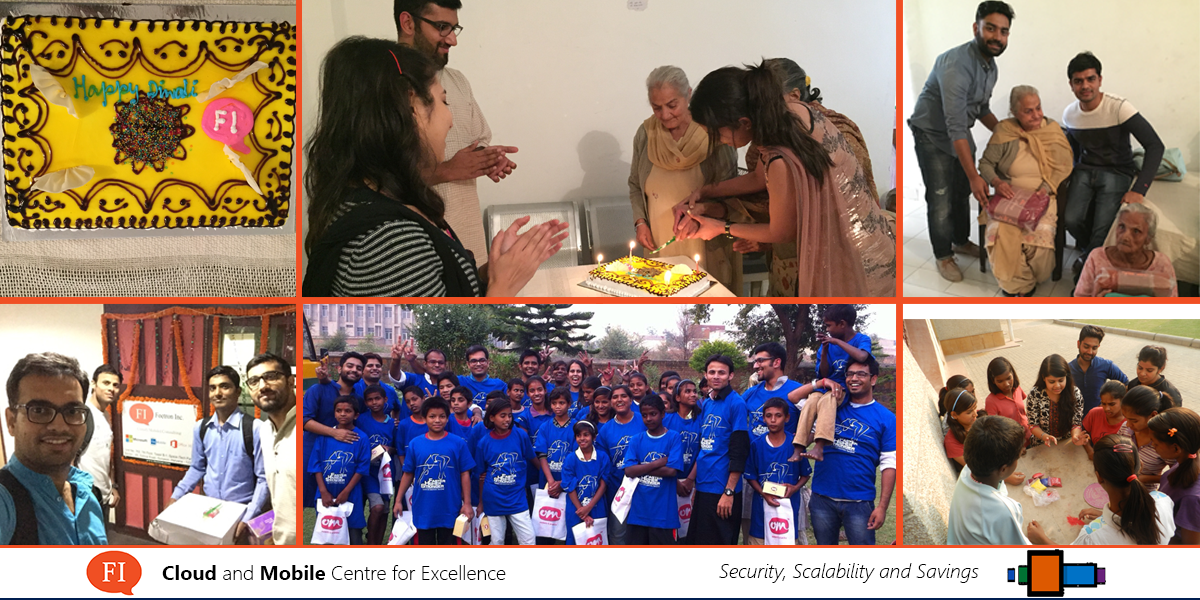 It might be Diwali for most of the people out there but for some it was just another day. A day where no one would call, wish or bring something for them.
We really felt something had to be done for these people and decided to visit an Old Age Home. Little bit of research on the internet connected us to Aasraa Foundation. On our way, we really thought how hopeless would they be, would they really like us if we remind them of their families on this auspicious day and what not. But to our surprise, we met some inspiring individuals who with their infectious warmth and blessings made our Diwali very special. It's unfortunate these people had to be here, but that didn't deter them from smiling bright at us and teaching us that age is indeed, just a number. Happiness stems from your heart and your mind. Foetron wishes you a very Happy Diwali, and hopes like all of us this festive season you too make the effort to spread some real smiles
Although, we were disheartened thinking what can we really do for them and there are others suffering as well and really connected to this message from Edmnd Burke "Nobody made a greater mistake than he who did nothing because he could only do a little."
We now decided to power their website and the Facebook page to reach out to more and more people.
Besides this, we have learned:
Start: Dream Big, Start Small but Act Now.
The best time or resources can't wait but time won't. If you want to really do it.. do it now. No matter how big or small it is
Celebrate: Celebrate now, Celebrate often.
One should be open to new stuff and challenges in life and we all should celebrate.
Respect: It should be our nature to have respect for everything out there. Nature, Thoughts and People.
We might have difference of opinion but respect is the fundamental ground for overall well being of the ecosystem.
"You must respect your teachers, not only the ones who teach you in the classroom but outside walls as well, and the ones you owe your most important learning to – your parents." – Arushi Bansal, Customer First Team, Foetron
Connect: Open your heart and the world will embrace you.
Learn: Observe and learn. There is so much more to do in this world.
"अजीब किस्सा है जिन्दगी का, अजनबी हाल पूछ रहे थे… और अपनो को खबर तक नहीं !!" – Shabab Ali, Value Realization Team, Foetron


"Everyone deserves to be happy, and I'm glad I could put a smile on these faces" – Nipun Rohatgi, Value Realization Team, Foetron

"Happiness is a choice. Make it. Spread it. Today and Every day!" – Team Foetron
Foetron also believes in One India Strong India – To build an India of friendship, peace and tolerance, and hope to make hatred and racism history. Click here to visit our page on Facebook.
We visited Shining India NGO last diwali.
To learn more about what we do, connect with us at cloud@foetron.com or simply give us a call at 0124 – 450 6200. We promise to make you benefit out of it!